RD250 Land Speed Bike
I've wanted to build a good RD250 based project for some time so when I started contemplating my "One Last Time project" naturally An RD250 LandSpeed bike came to mind.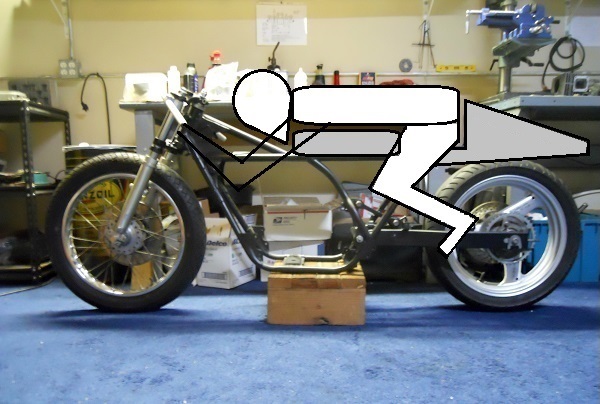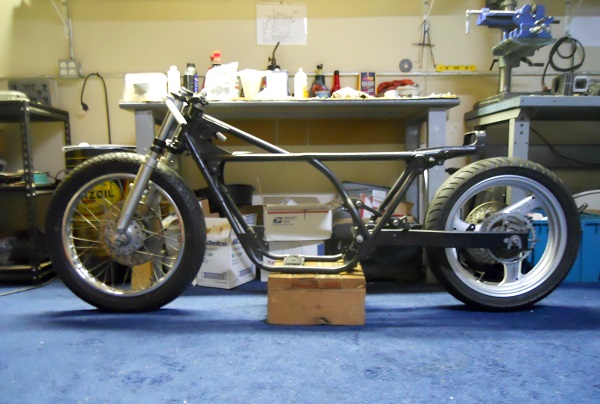 The first basic step after taking off every possible tab and bracket from the frame that wasn't being used was to get the bike lower and longer. I could have chosen a swingarm off one bike, a wheel off another bike and brakes off something else but by using a complete GS500 rear end it gave me a wider 17" wheel, a longer swingarm, and a ready to go brake system. Time and money saved here can go a dozen other well needed places.
For the class I'm racing in it isn't required to reduce the turning radius but it's a good idea for safety reasons so here's a simple way to determine how much material you need to add to your steering stops.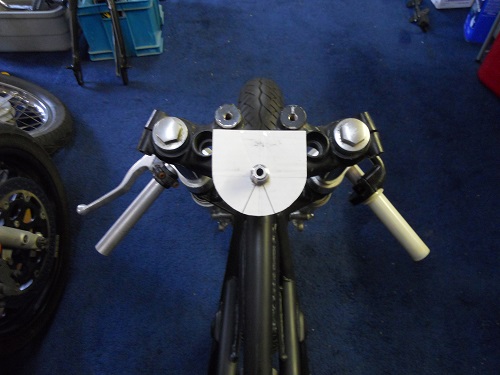 One of the things that will be different about this project is that I'll be shifting the tank back into the empty space usually under your chest and stomach. This is going to require a custom tank but it will drop my riding position a few much needed inches. To break 150mph on an RD250 is going to take every trick in the book.
I mocked up the basic size of the tank out of some wood I had laying around here. Then made a "cardboard tank" closer to the shape I thought would be about right with an open top. Then I lined it with a plastic bag and poured in the required 1.5 gallons. I had 1 1/2 inches of extra space from the top so I made a new cardboard tank lower, a little wider in the front and a little narrower in the back from what I'd learned from the first one. I tried the bag of water trick again and it dropped right in.. perfect, Then I made one last "wooden" tank to this shape just to make sure that the fit was just right. Now that I have a pretty good idea of the size and shape off we go to get the tank made asap.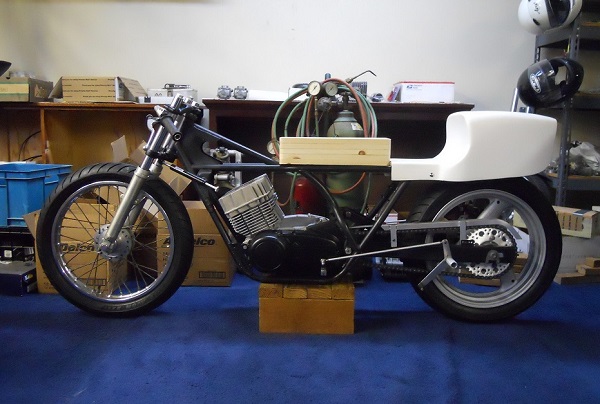 Update: A special thanks to Tony Doukas (TDR Tony Doukas Racing) for Helping me pull together a lion's share of the much needed parts for the project. Not only did Tony give a really big break on the parts to help see me reach my goal but he's had no problem sharing some of his years of experience with me as well. Thanks so much Tony!
Brakes and shifter
It's kinda important that the bike shifts and stops so I need to make a shift lever and a brake lever. It's not that complicated. 1) figure the distance you want between the pivot to the piece your toes will push on in my case it was 5 1/2". Make one of these out of 5/32 particle board put it on check the fit and determine at what angle you need it (in this case it put the toe piece at 8" above the ground) and write it down. next make the second part of the lever out of particle board put it, position it where it needs to be and mark the two in relation to each other so that you can line it all up when it's off the bike.
When figuring out where you want the second lever remember that any time the lever isn't at 90 degrees to the rod then some of the movement is pushing up or down and not the desire forward and back. So for the shifter at rest you want 90deg to the shift rod on the brake you can start a little further back than 90 so that the lever is reaching the optimum 90deg as it's doing the most work.
Now cut it all out of steel or Ali, weld em up and bolt em on!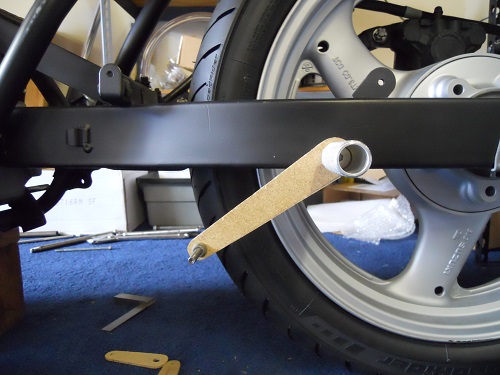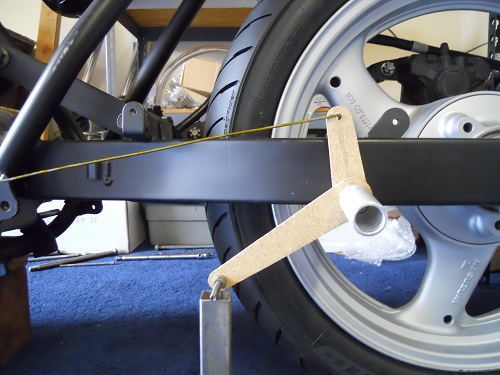 Making temples first allows you to make changes before you start cutting steel too. See how here I'll shorten the upper lever a little bit on the final version.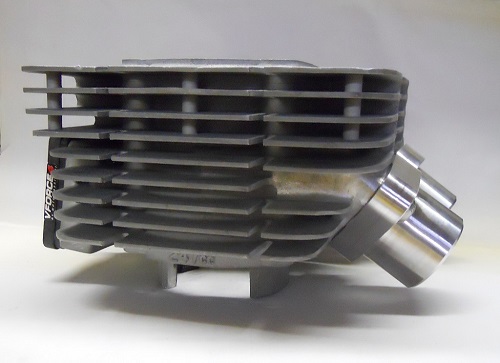 Preparing the cylinders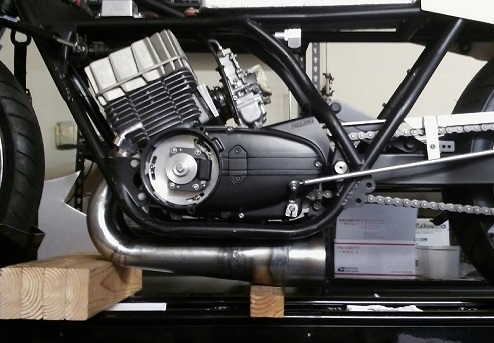 Building the pipes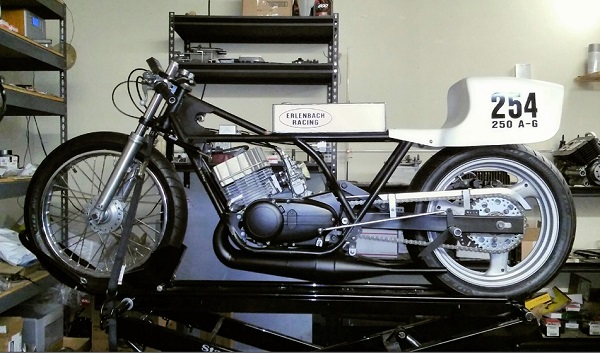 Ready to Race
A special thanks also to Tom Turner, John Ritter, Wobbly Wright, Ed Miller, Tom Mackie, Mark Atkinson, John Dumas, Mark at R&D Motorsports, Ralph & Gabriel at Superior Performance, Lucas Dunev, Roland Sands, and John at Economy Cycle.