DKG TZ250 Framed RD350
Street Rocket
Gabriel Clift and Ralph Ponce are the proud two-stroke nuts behind this cool project. What do you get when you take a DKG TZ250 chassis, put a Seriously HOT RD350 engine in it, and set it loose on the streets? You get one seriously cool Two-Stroke Street Rocket!!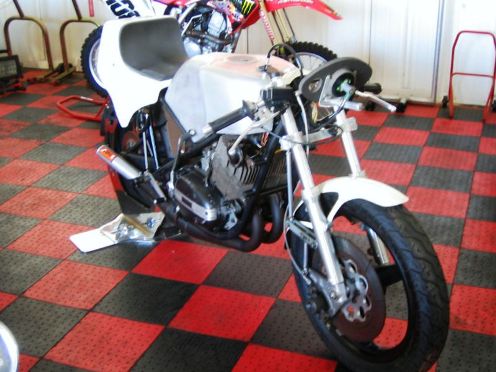 This bikes beautiful DKG TZ250 frame was built by famed designer/racer Dave Garoutte, who set out to build a superior handling frame for his own TZ250 race bike. Approximately 12 frames were designed and built by Dave, powered by Yamaha TZ250, TT500 and RD engines. These frames were very successful, winning many races and championships. Features to these frames included; oversized tubing in a straight line load path from head tube to swing-arm pivot, tapered roller bearings and a hollow double tapered swing-arm. The wheelbase is short for quick handling and the alloy fuel tank was hand formed by Dave himself. This bike also features TZ250 front end and rear mono-shock, Spondon disc brakes with magnesium calipers and front anti-dive unit all rolling on Dymag magnesium wheels.
My contribution is porting and engine work
The engine features Webco heads modified by Scott Clough (SCR), Extensive porting and engine work by myself (Ed Erlenbach/Erlenbach Racing), Oversize YZ85 reedcages, 34mm carbs, MZB Magneto ignition, the transmission was undercut, REM polished, and anti-friction coated by R&D Motorsports, and a complete working TZ250 dry clutch to get every last pony back to the rear wheel.

First stop was the transmission.
After a full inspection it was shipped off to R&D Motorsports for undercutting, REM polishing, and antifriction plating.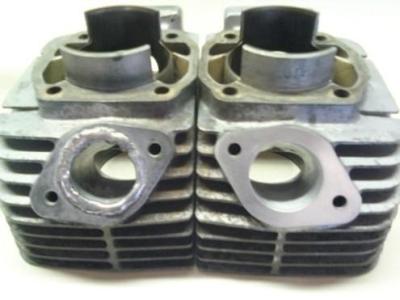 After looking at a few sets of cylinder I settled on a set that was in pretty good shape. The only bad thing was that someone had opened up the EX outlets a bit much. On the race bikes I like to get rid of the stock exhaust gaskets anyway because they crush and restrict the exhaust flow. So welding up the exhaust gasket recesses took care of both of these two birds with one stone. (Welded on the left, finished on the right)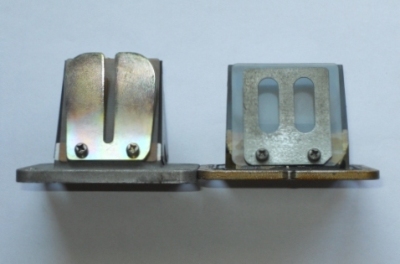 RD350/400 39.5 reedcage tip width, YZ85 46.5
Next the intake side.. A common modification is to put RZ350 reedcages in an RD. But I could never justify the benefit of hogging out the intake and making the intake port side walls paper thin when I'd proven in our roadracers that you can get PLENTY of HP through modified stock RD cages (center bridge removed). Well it looks like Yamaha heard us in the YZ85 reedcage. It's about halfway between the width of an RD reedcage and an RZ reedcage with no center bridge from the factory. This gives it more reed tip opening width than a stock RZ350 reedcage but without having to hog out the intake near as badly and retaining the 52deg reedcage angle of the RD instead of the steeper 62deg of the RZ, a win win situation in my book.
While i rebuilt the crankshaft we shot peened the connecting rods, added 18 roller RG500 connecting rod big end bearings and had the crank precision balanced.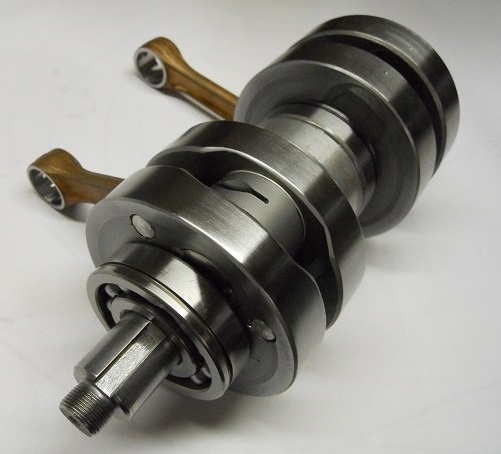 Engine finished - Ready to Rock-n-Roll